Built around Sydney's tramways in 1890s, Newtown needs KPIs to prioritise humans not cars.
The proposed transformation will activate Newtown as a premier destination for locals, as well as domestic and international visitors.
Bring the tram sheds back to life – creating a new gathering point. Landscape and open the areas around the tram sheds, with increased passive surveillance and human scale lighting. Make more spaces to sit, reducing crowding, and create new cooling green islands.
Create quicker connections between business areas with new paths. Most people head straight to northern King St. Use shared identity, anchors, and wayfinding to encourage visitors to spread.

Newtown only receives 10% of the international visitors as the Opera House
Reactivate Brennan Lane and the old path along the Bank Hotel.
Additional exits at Newtown would make happier customers, increase the passenger catchment, and reduces crowding at Newtown & Erskineville – which will be essential after the changes from the Metro extending to Bankstown.
Petersham, Stanmore, and Newtown need a clear safe separated cycling connection to the Wilson St Cycle Highway and city bike network. This area is not a safe place with narrow lanes, high speeds, and aggressive drivers.
In 2013, RMS planned "Sydney Clearways" through Newtown based on four vehicle criteria: volumes, speeds, freight, and parking. RMS ignored all social, economic, and environmental factors, including noise, pollution, movement, appeal, and economic activity.
Sacrificing the places of King St and Enmore Rd will not increase vehicle movement across Sydney. RMS clearways destroy places, just like they destroyed the once lively Parramatta Rd.
Sydney Clearways Strategy – Keeping Sydney Moving – December 2013 – Transport for NSW: Roads and Maritime Services
'Figure 6: Weekday AM Peak and Figure 8: Weekend

Roads to be further investigated for clearway extensions.

Note: Certain routes will be investigated for all day clearways, for example 6am – 7pm.'

RMS (2013)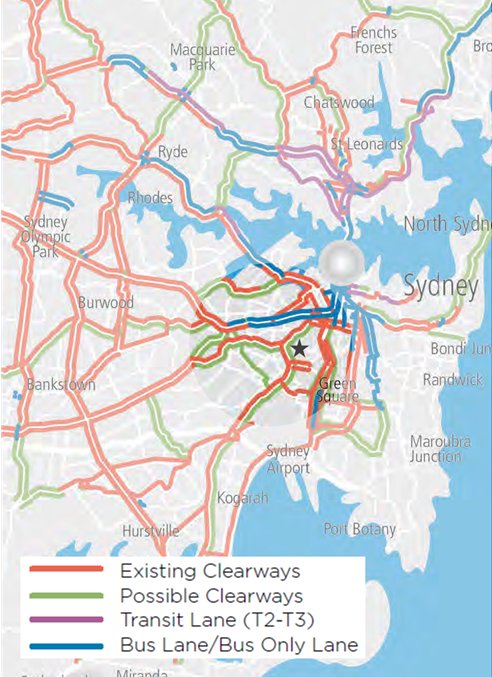 Including my submission to the Sydney Public Space Ideas Competition