Making Enmore's commons safer for children, removing rat-runs, and giving more space to people
This compact area can be used as a low-cost minimal-disruption demonstration transformation.
Safe 30 km/h limit in these narrow residential streets will increase pedestrian safety, decrease pollution, and will achieve Vision Zero.

Speed limits of 50km/h on narrow streets (60km/h on Liberty St) are dangerous and frequently results in accident and near-misses.

Raised continuous sidewalk on all roads throughout the area will psychologically calm traffic by showing the area is human-centric.

The daylighting zones will be enhanced with seating, tables, and swings.
Closing Cambridge St at Enmore Rd will move the bus stop and prevent the bus queues blocking Stanmore Rd or buses being trapped behind the lights.

This area can be used by the bakery, the Sly Fox, and the public for outdoor seating.

Closing London St at Enmore Rd will remove the rat-running traffic from Liberty St to Enmore Rd (eastbound) and Edgeware Rd-Metropolitan Rd (northbound).
This reclaimed area will provide Cow and Moon (the international award-winning gelataria) and its patrons from across Sydney additional seating and a safe space to queue.
Running some streets as one-way will allow unnecessary lanes to be landscaped with rain gardens, shade-trees, and grass to play on.
24-hour bus lanes at both ends of Enmore Rd with automatic license plate validation, will allow this major transport corridor to move more people per hour to Newtown area and the CBD.
With minor changes, the local cycleway network can be connected to the universities, Airport, CBD, Petersham, and beyond.
Modified version of my submission to the Sydney Public Space Ideas Competition – with additional green space.
Sacrificing the places of King St and Enmore Rd will not increase vehicle movement across Sydney. RMS clearways destroy places, just like they destroyed the once lively Parramatta Rd.
Sydney Clearways Strategy – Keeping Sydney Moving – December 2013 – Transport for NSW: Roads and Maritime Services
'Figure 6: Weekday AM Peak and Figure 8: Weekend

Roads to be further investigated for clearway extensions.

Note: Certain routes will be investigated for all day clearways, for example 6am – 7pm.'

RMS (2013)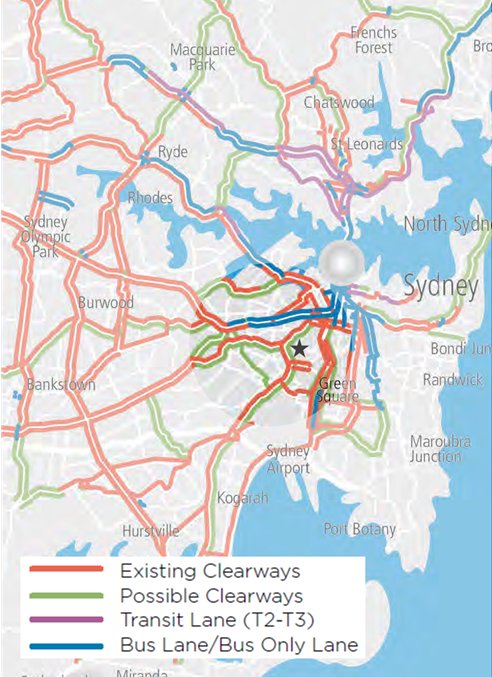 Including my submission to the Sydney Public Space Ideas Competition